Some people say that once you write a book - you never stop at only one. I think I tend to agree. There is something about creating something from nothing, and even more so for me - I enjoy sharing the knowledge I have accumulated with the rest of the world. I think I have always been this way. This blog would not exist if that was not the case.
I would like to introduce you all to my latest project.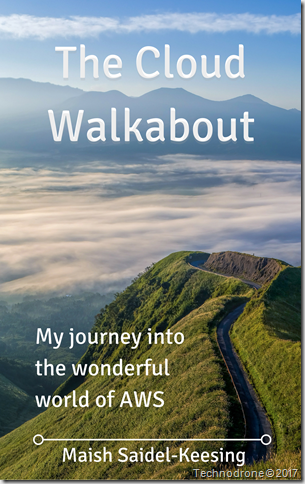 My focus has changed - a number of times over the years, first from Microsoft, then to VMware, on to OpenStack and now my day to day job has me focused exclusively on AWS.
The book is currently in production - and I expect to have a new chapter available on a monthly schedule.
Please take a few minutes to read my previous post - Self Publishing my New Book #AWS and understand how Leanpub works.
Even more so - I am asking you to choose how much you pay for it. There is a minimum price - but you can choose how much you think this book is worth to you. Yes - It might sound a bit crazy - but I have faith in you my readers, that this book will be of a huge benefit to all that read it and you should decide how much would like to pay.
Currently I am only publishing a digital version - when the book is complete - there will probably be a print version as well - we will see what the future holds..
The book is available for pre-purchase today - and this includes the first 3 chapters that are available today (if you would like a sample for free - it is available as well).
Please visit http://cloudwalkabout.com today for your copy.
The most important thing for me is feedback. I would like to hear from you what think about the book, are there parts that you think need improvement, are there things that are missing, or whatever you feel like sharing.
Feel free to reach out me either on Twitter, through this blog or on the book page.